Description
Each daily dose (2 capsules) provides 20 mg of peptide complex A-6 (thymus peptides).
Presents a cutting-edge approach to immune system support.*
Natural Peptide Bioregulators are made from carefully chosen Danish bovine tissues and passed through pharmaceutical processes and filters.
Each package provides for 10 days of servings (30 days recommended for an 'intensive' course)
Vladonix and the Thymus Gland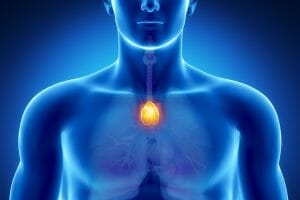 The thymus is a small and often-forgotten organ found just below the breastbone. It is a facet of the lymphatic system as well as the endocrine system.
The primary role of the thymus is to produce progenitor cells which then age into T-cells (or Thymus-derived cells). T-cells are crucial to the development of the immune system for two reasons: they destroy certain types of cells which can be harmful to the body, and they are used to assist in the development of other immune system organs.1
Thymus peptides (essentially small protein chains extracted from the thymus) are typically either man-made or derived from the glands of cows. While they can vary greatly in source, quality, and potency all thymus extracts are typically used to support the healthy function of the immune system.2
Vladonix is a Natural Peptide Bioregulator product which contains a quality thymus extract known as peptide complex A-6. It is based on the groundbreaking work of Nobel Prize nominated scientist, Professor Vladimir Khavinson.3
Note: This product is not a medication (drug)
Storage conditions: Keep in dry, dark place under temperature from +2°C to +25°C. Consult your physician before use.
Contraindications: Individual intolerance of components, pregnancy, lactation.
Warnings:
Consult your physician before use.
Keep out of reach of children.
Do not exceed recommended dose.
* These statements have not been evaluated by the Food and Drug Administration. This Product is not intended to diagnose, treat, cure or prevent any disease.