Security and Trust
At DR Vitamin Solutions we place the highest level of priority to safeguard and protect your private information. We will only use the information you provide to process your order, reply to your questions, and only if you opt in, to provide you our email promotions newsletter. We will not give, sell, or rent your personal information, including email address, or specific account activity to anyone for any reason without your prior consent except as required by law.
You can shop at www.drvitaminsolutions.com online with confidence. We have partnered with Authorize.Net, a leading payment gateway since 1996, to offer safe and secure credit card and electronic check transactions for our customers.
The Authorize.Net Payment Gateway manages the complex routing of sensitive customer information through the credit card and electronic check processing networks. The company adheres to strict industry standards for payment processing, including:
AES-256, 256 bit Secure Sockets Layer (SSL) technology for secure Internet Protocol (IP) transactions.
Industry leading encryption hardware and software methods and security protocols to protect customer information.
Compliance with the Payment Card Industry (PCI) Data Security Standard.
For additional information regarding the privacy of your sensitive cardholder data, please read the Authorize.Net Privacy Policy.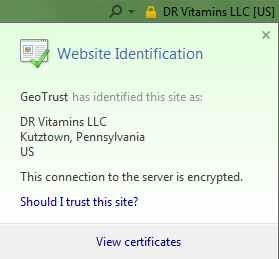 Once you are in the checkout process, you can verify that you are accessing our secure by looking to the right of the location bar in newer browsers, or at the lower left or right corner of your browser for older versions. If you see an unbroken key or a closed lock (depending upon your browser), the SSL is active. You can click this image of the lock to see verification. You may also notice on newer browsers a "green" color where the web address is indication full protection (see image to right). To double-check for security, that you have accessed our secure server, the first characters of the address in that line should change from "http" to "https" once you are at the checkout.
www.drvitaminsolutions.com is registered with the Authorize.Net Verified Merchant Seal program. To verify our merchant status please click on the seal below: