Description
Each packet contains:

2 PlusOne Prenatal Multi capsules
1 L-Carnitine capsule
2 Choline capsules

Features crucial nutrients like Iron, Folate, and more!
Intended for use from preconception through nursing.
All included products are non-GMO and gluten-free.
30 packets in every container.
Understanding Prenatal Nutrition & the PlusOne Formula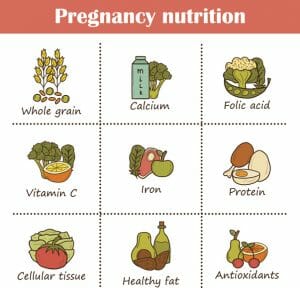 As any woman who has ever been pregnant will tell you, carrying a new life into the world is no small task. Certain aspects like labour pains, exhaustion, and mood swings are some of the most obvious burdens and obstacles to overcome. However, one difficulty of pregnancy which is not as often discussed is having to keep up with increased nutritional demands – you are eating for two after all!
'Increased nutritional demands' does not simply equate to eating more (though that is a common effect). Rather, a pregnant body is in demand of a much greater variety of nutrients than can be found in the average diet. Experts theorize this may account for the all too common phenomena of strange food cravings in pregnant women.
It's also worth noting that the aforementioned exhaustion which is all too common in pregnant women, regardless of trimester, can also be partially accounted for in one's dietary choices. Nutrients which are depleted throughout the prenatal phase, such as Iron, are particularly valuable for this cause.1
That said, quality prenatal nutrition has much deeper implications than the well-being of the mother. Some of the scientific literature seems to suggest that deficiencies in micronutrients like Iron and Folate have the potential to trigger birth and fetal development complications.2
Metagenics PlusOne Daily Prenatal Packs provides a balanced dose of Iron and Folate, but that is only the tip of the iceberg. Every packet contains 2 PlusOne Prenatal Multi capsules, 1 L-Carnitine capsule, 2 Choline capsules, 1 OmegaGenics EPA-DHA 720 softgel, and 1 OmegaGenics EPA-DHA Neuro 1000 softgel. It represents a veritable tour de force of all the nutrients prenatal women (and their child-to-be) need most!*
Storage: Keep in a cool, dry place.
Warnings:
Excess vitamin A intake may increase the risk of birth defects. Pregnant women and women who may become pregnant should not exceed 3,000 mcg of preformed vitamin A (retinyl palmitate) per day.
Accidental overdose of iron-containing products is a leading cause of fatal poisoning in children under 6. In case of accidental overdose, call a doctor or poison control center immediately.
If pregnant, nursing, or undergoing treatment for a medical condition, consult your physician before taking this product.
Keep out of reach of children.
Do not exceed recommended dose.
* These statements have not been evaluated by the Food and Drug Administration. This Product is not intended to diagnose, treat, cure or prevent any disease.