Description
Nutri-Spec is proud to present the new Prebiotic + Probiotic supplement which is specifically tailored to support anti-inflammatory activity. Contains a number of strains which have been scientifically studied for their potential to provide specific anti-inflammatory support mechanisms.
New and improved 10 billion CFU of L. plantarum, L. reuteri, B. lactis, B. breve and other anti-inflammatory probiotics.
Also features leading prebiotic compounds, Glucomannan and Chicory Inulin.
Anti-inflammatory activity may support overall bowel health, digestion, and the immune system.
Designed to aid in the long-term health of a well balanced gut bacterial flora.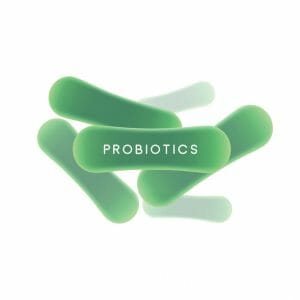 Probiotics and Anti-Inflammatory Response
By now, most people know about probiotics and the benefits that certain bacterial strains can have within the human body, particularly the gut. They know that without a healthy flora of gut probiotics many digestive and immune processes may be hampered or otherwise complicated. They also know that the average diet is severely lacking in quality probiotic content. However, what many people overlook is the role that probiotics play in supporting anti-inflammatory response.
The primary way in which probiotics help to fight inflammation is through downregulation of the production of inflammatory cytokines, but there are also a number of strain-specific regulatory mechanism which may also aid in anti-inflammatory activity. As such, Immuno-Synbiotic Prebiotic + Probiotic contains a number of probiotic strains which have been studied for their potential to provide unique and targeted mechanisms for anti-inflammatory support. These strains include Lactobacillus plantarum, Lactobacillus reuteri, Bifidobacterium lactis, Bifidobacterium breve, and more!1
The Importance of Prebiotics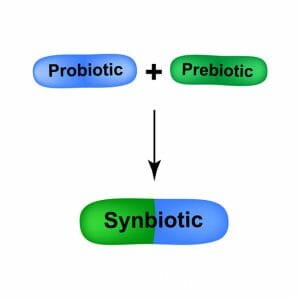 While probiotic supplements and probiotic dense natural foods are a viable method for supporting a healthy gut flora, many people tend to forget the importance of prebiotics. Said prebiotics are loosely defined as any substance which acts as a sort of food or fuel for probiotic strains. Therefore, you can ingest all of the good bacteria you like, but without enough prebiotics entering the body, the probiotic flora in the gut will always be at risk of becoming damaged, degraded, or otherwise imbalanced.
Given the importance of these substances, it is a shame to note that many industry-leading probiotic supplements are lacking in these essential prebiotics. Thankfully, Immuno-Synbiotic Prebiotic + Probiotic is not one of these supplements as it contains two of the most widely recommended prebiotic substances, Glucomannan and Chicory Inulin. This may further support the development and long-term health of healthy bacteria cultures in the gut.
Note: Contains milk.
Warnings:
If pregnant, nursing, or undergoing treatment for a medical condition, consult your physician before taking this product.
Keep out of reach of children.
Do not exceed recommended dose.
* These statements have not been evaluated by the Food and Drug Administration. This Product is not intended to diagnose, treat, cure or prevent any disease.