Description
Not all probiotic strains are made as equals. Specific strains may have very distinct mechanisms of support for both the immune and digestive systems. It's important to find a probiotic supplement which is carefully manufactured and made with probiotic strains which are relevant to your personal gut flora. Nutri-Spec Immune Power uses four varieties of Lactobacilli probiotic strains which may provide extra strength immune and detoxification support.
Features up to 6 billion CFU of four distinct Lactobacillus probiotic strains.
Designed to provide an extra-strength defense for healthy gut flora.
May be helpful in detoxifying the gut and alleviating diarrhea after antibiotic consumption.
Contains prebiotics nourish and support the health of probiotics.
Powerful Probiotics for Meaningful Immune Support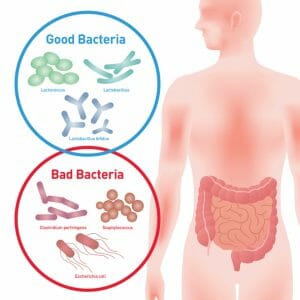 Without probiotics, the immune system may not be able to respond to harmful bodily invaders as quickly and effectively as one might like. A healthy probiotic flora is key to a healthy immune system, but some probiotic strains may be more effective for supporting specific aspects of healthy immune response than others.
One study tested the effects of Lactobacilli strains against antibiotic-associated diarrhea. When antibiotics reach the gut, they aren't sophisticated enough to eliminate bad bacteria strains without also eliminating good bacteria. By damaging good bacteria in the gut, antibiotics ironically enable the growth of all sorts of pathogenic bacterial strains which may be a contributing source of diarrhea and other intestinal issues. Said study revealed that Lactobacilli, as opposed to Bifidobacterium, may be particularly supportive of the detoxification and neutralization of these pathogenic bacterial strains,1 and many suspect that they may have the greatest strength in immune system support.
Understanding and Appreciating Prebiotics
Though probiotic supplements and probiotic dense foods are undeniably useful for supporting a healthy gut flora, the importance of 'prebiotics' is too often forgotten. Like 'probiotic', 'prebiotic' is a general term, in this case referring to any substance which acts as a sort of food or fuel for the health and development of good bacteria. As such, it may be possible to ingest large quantities of good bacteria, but without enough prebiotics entering the body, the probiotic flora in the gut will always be at risk of becoming damaged, degraded, or otherwise imbalanced.
Given the importance of these substances, it is a shame to note that many industry-leading probiotic supplements are lacking in prebiotics. Thankfully, Immune Power is not one of these supplements! To the contrary, it contains two of the most widely recommended prebiotic substances – Glucomannan and Chicory Inulin. These two powerful nutrient compounds may provide further support for the development and long term health of healthy bacteria cultures in the gut.
Supplement Facts
Serving Size: 4 Capsules

Servings Per Container: 30

Amount Per Serving
Probiotic Blend

Lactobacillus rhamnosus

Lactobacillus paracasei

Lactobacillus casei

Lactobacillus gasseri

6 billion CFU
Glucomannan
1000 mg
Chicory inulin
800 mg
Other Ingredients: Hypromellose, vegetable magnesium stearate and silica.
Dosage and Use:
Take 2, twice daily before meals, with a full glass of water
Warnings:
If pregnant, nursing, or undergoing treatment for a medical condition, consult your physician before taking this product
Keep out of reach of children
Do not exceed recommended dose
References:
* These statements have not been evaluated by the Food and Drug Administration. This Product is not intended to diagnose, treat, cure or prevent any disease.