Description
CBD oil supplements have recently gained a lot of positive buzz for their ability to activate cannabinoid receptors without producing psychoactive effects. These receptors can be found throughout the human body and may play a supportive role in the healthy function of the immune system, neurotransmissions, and even pain response. Quicksilver Scientific Full Spectrum Hemp Extract is designed to bring you the best and most bioavailable in CBD absorption.
16 mg of cannabidiol (CBD) per serving.
Contains small traces of THC – not enough to exert psychoactive properties.
For a different range of cannabinoid content, try Broad Spectrum Hemp Extract!
May provide nutritional support for healthy immune and pain response, cardiovascular and gastrointestinal functions, antioxidant and anti-inflammatory activity, cognitive function, and more.
Quicksilver Scientific delivery system is designed to greatly improve the otherwise low bioavailability of CBD in the human body.
The Ground-Breaking Nutritional Potential of Full Spectrum Hemp Extract
Due to legal complications surrounding the recreational use of hemp plants, a great deal of their nutritional potential has been completely ignored. Now, the doors have been opened, and modern research has continued to unveil the astonishing health properties of chemical compounds which can only be found within hemp plants, Cannabis Sativa in particular, the most notable of these compounds being Cannabinoids. These cannabinoids can take many forms, most of them possessing psychoactive properties which result in the recreational drug use of Cannabis Sativa, or Marijuana. However, one particular compound known as Cannabidiol, or CBD, does not contain any of these psychoactive properties, and is thought to possess great potential for nutritional health support via the activation of cannabinoid receptors throughout the body.
Understanding Cannabinoid Receptors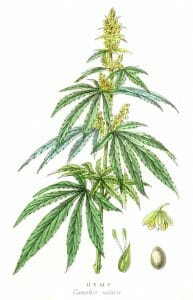 Cannabinoid receptors fall into two categories conveniently named cannabinoid receptor type 1 (CB1) and cannabinoid receptor type 2 (CB2). CB1 are thought to be one of the most widely expressed G protein-coupled receptors in the brain. They play an important role in GABA and other neurotransmissions, and may therefore have an impact on stress and anxiety response and other aspects of cognitive function. They may also be supportive of pain response, cardiovascular health, and gastrointestinal function.
CB2 are also G protein-coupled receptors which function very similarly to CB1 in their support of various cell transmissions throughout the body. They are distinguished by their expression on the T cells of the immune system. As such, they are thought to be essential to immune response and may play an even greater role than CB1 in support of healthy pain response.
The Growing Popularity of CBD Products
The body is able to organically produce certain varieties of Cannabinoids, known as Endocannabinoids, as a means of activating cannabinoid receptors. However, complications in this production may occur and contribute to a number of health complications. The reason that CBD is so widely sought after is that it is able to stimulate and activate these essential G protein-coupled receptors without producing any psychoactive effects that other plant-based Cannabinoids are known to produce. Essentially, you get all of the nutritional benefits of hemp, divorced from any of the properties which may be harmful to the human body or otherwise mind-altering.
As if all of these benefits weren't enough, one study has also indicated that CBD may also be particularly useful for supporting antioxidant and anti-inflammatory activity via their interactions with immune cells.1 Quicksilver Scientific Full Spectrum Hemp Extract is a potent source of CBD with an advanced nutrient delivery system for further support of bioavailability. If you're looking for the most effective CBD on the market, look no further than Quicksilver Scientific Full Spectrum Hemp Extract.
Note: Best used within 60 days of opening.
Warnings:
If pregnant, nursing, or undergoing treatment for a medical condition, consult your physician before taking this product
Keep out of reach of children
Do not exceed recommended dose
* These statements have not been evaluated by the Food and Drug Administration. This Product is not intended to diagnose, treat, cure or prevent any disease.