Description
4.20 mg

of

DAO™ Porcine Kidney Extract

in every capsule.
Designed for support of innate histamine regulation processes.*
Includes 5 mg of catalase for synergistic enzyme effects.
Free of gluten, soy, preservatives, artificial colors/flavors, and non-GMO.
60 or 120 complete servings per bottle.
Diamine Oxidase and Histamine: A Brief Overview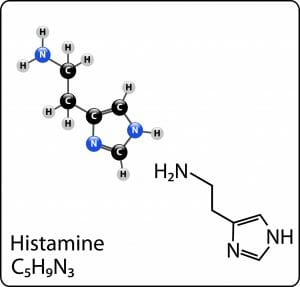 Most people have never heard of diamine oxidase (DAO). Even most fitness and nutrition buffs are unaware of this enzyme and its vital role in human health.
Diamine oxidase is what's known as a digestive enzyme. As such, its general function is to break down ingested compounds into usable nutrients. While DAO may play more of a niche role than other, more widely-supplemented digestive enzymes, it is no less important.
The specific role of diamine oxidase is to break down ingested histamine through the process of oxidative degradation. Histamine is best known for its involvement in allergic reactions, particularly as they pertain to seasonal allergy symptoms like sneezing or watery eyes. That said, it has recently become evident that ingested histamine can trigger a similar and potentially more severe reaction in certain individuals.
It's important to establish that histamine is surprisingly common in the average diet. It is found most commonly in fermented foods like cheese and smoked fish. Those who have a digestive intolerance to histamine may find that the ingestion of fermented foods can trigger the symptoms of an allergic reaction, as well as digestive discomfort.1
In response to this burgeoning awareness, a number of highly credible studies have examined these reactions and their relation to diamine oxidase.
How Has Omne Diem DAO Adapted to the Latest Science?
While it remains clear that a healthy supply of DAO is essential for innate histamine reduction processes,1 it is still to be determined how to deliver such a supply via dietary supplements.
In particular, dosage has become a major point of contention as it seems that very large amounts of any DAO-containing ingredient (typically porcine kidney) would need to be consumed to adequately oxidize histamine amounts which are found in typical meals (approximately 75 mg).2
Diem Direct DAO from Diem is the original diamine oxidase supplement brand in the US. As such, the formula has been carefully calibrated to deliver the highest possible quantities of DAO in the most bioavailable form possible. This is achieved in three ways:
A large dose of premium quality DAO Porcine Kidney Extract.
The use of DRCaps™ for a delayed-release of nutritional content to the GI tract.
The addition of the common enzyme catalase.
Of particular interest is the addition of catalase. A 2017 study from the University of Quebec indicates that the combined, synergistic effects of catalase and DAO were capable of modulating histamine toxicity in the human intestinal lining.3
By adapting to the most cutting-edge clinical literature, Diem Histamine Digest with DAO has steadily improved and retained its status as the finest DAO supplement on the market. No corners have been cut, and no expense has been spared in making this the most potent and effective formula possible.
Medical supervision recommended, please consult your healthcare practitioner for possible interactions with other medications. Do not use if tamper seal is damaged.
This product page has been medically reviewed by Dr. Jose Lidardi, MD