Description
1.2 g of quality butyric acid per serving.
Designed primarily for the maintenance of a healthy intestinal lining.
Butyrate may also possess various anti-inflammatory and immune-modulatory properties.
Calcium and magnesium provide synergy to the formula while supporting everything from digestion to brain health.
Capsules are non-GMO and free of wheat, gluten, yeast, corn, soy, dairy, artificial colors, and resins.
125 complete servings in each bottle.
Butyric Acid and Gut Health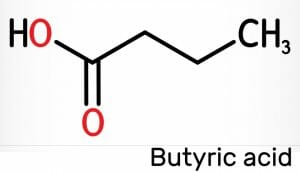 Butyrate plays so many important roles within the gastrointestinal tract that it is sometimes mistaken for a probiotic. While this is a reasonable assumption, in actuality butyrate (butyric acid) is not a form of bacteria, but rather a short chain fatty acid which is produced by probiotics which reside in the lower colon.
That said, probiotics and butyrate are both undeniably essential and interdependent facets of a healthy digestive system. So, what does butyrate do for the body after it has been produced? It all ties back to the primary reason most people take butyrate supplements: to maintain the integrity of the gut lining.
The gut lining is made up of millions of cells and acts as a sort of security system for the digestive tract, meaning that it is promotes the transport of water and other necessary materials, while preventing the absorption of toxins, bacteria, and other pathogens.
The problem is that a combination of genetic and dietary issues can lead to the degradation of this barrier. This occurrence is most commonly referred to as a "leaky guy". Individuals with a leaky gut are not only more susceptible to the absorption of ingested toxins, they are also likely to share symptoms with a number of serious gastrointestinal complications. Whether or not a leaky gut is a cause of these issues, or just a signal of larger issues is unknown as of yet, but what's certain is that all of these health concerns are linked to chronic inflammation.1
Butyrate may be capable of aiding gut integrity through a variety of means. Significantly, it is thought that butyrate plays a role as an anti-inflammatory agent via the inhibition of nuclear factor κB (NF-κB) in epithelial cells.2 In addition, it may play a more direct role in intestinal barrier function, in part by facilitating the assembly of protein complexes known as tight junctions.3 These tight junctions are integral to both protection of the gut, as well as the transport of water and other crucial materials.
Optimal Supplementation with BodyBio Butyrate
Due to the fragile nature of the gut microbiome (where butyrate is produced), and because butyrate isn't present in significant quantities in most foods, it may be beneficial to include butyrate supplementation as a facet of your daily diet. This is where BodyBio Butyrate comes in!
BodyBio Butyrate is a fantastic choice of supplement thanks to its lack of fillers, additives, artificial colors, resins, and other potentially harmful ingredients. BodyBio only uses all-natural ingredients. In the case of butyrate this results in a fairly pungent, fermented scent. While this scent may not be the most pleasant to the nose, it should be thought of as a mark of quality that any butyrate supplement of quality and integrity must meet!
Warnings:
If pregnant, nursing, or undergoing treatment for a medical condition, consult your physician before taking this product.
Keep out of reach of children.
Do not exceed recommended dose.
* These statements have not been evaluated by the Food and Drug Administration. This Product is not intended to diagnose, treat, cure or prevent any disease.