Description
For those who struggle with Histamine intolerances and the allergy-like symptoms they can inflict, there are certain nutrients which may help the body to properly breakdown and otherwise regulate histamine levels. These include vitamin C, Flavonoids like quercetin and luteolin, and Diindolylmethane (DIM). Hista-Aid from Quicksilver Scientific provides all of these and more in a nanoemulsified solution which may greatly improve bioavailability.
Designed to support a healthy balance of histamine levels.
Features vitamin C, quercetin, luteolin, and DIM.
Histamine plays a role in immune response, digestion, and cognitive function.
Antioxidant and anti-inflammatory support may be helpful for other aspects of immune system function.
Nanoemulsified mouth spray formulation may provide improved absorption and bioavailability.
Histamine – Functions and Intolerance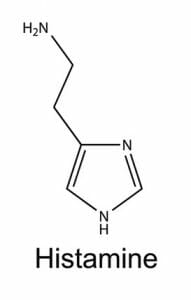 Histamine is a nitrogenous compound which is organically produced in the human body and stored in mast cells, as well as white blood cells called basophils. It serves as a key facet of local immune response, physiological function in the gut, and neurotransmissions in the brain. It is also involved in inflammatory responses, such as the mediation of itching. This is partly the reason that issues with histamine balance are often associated with irritated and blotchy skin.
While numerous bodily systems and functions rely on this compound, histamine intolerance occurs in many individuals and produces symptoms similar to that of an allergic response. However, this intolerance is not the product of a genetic sensitivity to histamine, but rather an overaccumulation of it. Such an accumulation may be a result of failures in the natural processes which regulate its breakdown and release.
Ingredients for Histamine Balance
The question is: how to nutritionally support the processes which regulate histamine levels in a way that best negates the potential for development of an intolerance. Thankfully, Hista-Aid from Quicksilver Scientific has been carefully formulated to provide the most scientifically backed ingredients for support of histamine balance. These ingredients include vitamin C, flavonoids quercetin and luteolin, and Diindolylmethane (DIM).
Vitamin C is thought to aid in the production of diamine oxidase (DAO), a key enzyme which breaks down the histamine which is contained in the food we eat.1 Flavonoids like quercetin and luteolin may be helpful in inhibiting mast cell activity and the resulting histamine release.2 And finally, DIM has been shown to affect the expression of Nrf2.3 Nrf2 is a protein that acts as a primary regulator of antioxidant activity and over 200 genes involved in detoxification. Some of these same genes may also play a role in histamine release.
Note: Use within 60 days of opening.
Warnings:
If pregnant, nursing, or undergoing treatment for a medical condition, consult your physician before taking this product
Keep out of reach of children
Do not exceed recommended dose
* These statements have not been evaluated by the Food and Drug Administration. This Product is not intended to diagnose, treat, cure or prevent any disease.