Description
Item Catalog Number: gaba
1.7 oz Pump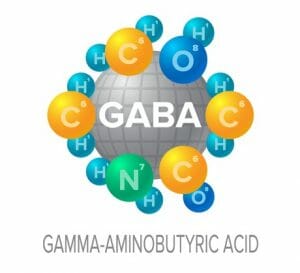 The absorption rate of Quicksilver Scientific GABA approaches that of an IV using liposomal delivery, though it can only partially bypass the blood brain barrier. Supports anxiety and more.
Quicksilver's Etheric Delivery Sunflower Phospholipid Encapsulation System improves absorption over oral capsules. Our Etheric Delivery provides small, stable, single-layered spheres made from high-grade ingredients. In addition to higher absorption rates, nanospheres like Quicksilver produces have demonstrated the ability to partially cross the blood-brain barrier, deposit their cargo intracellularly and enhance lymphatic circulation of nutrients. Additionally, the phospholipids that compose the liposome shell feed the cell membranes. This ensures the proper function for the absorption of nutrients and the excretion of cellular waste products and toxins.
GABA (gamma-aminobutyric acid) is a neurotransmitter produced by the body and responsible for a calm, serene, grounded state of being. GABA has an antagonistic neurotransmitter called glutamate, most commonly associated with the excitotoxin MSG (monosodium glutamate). GABA is associated with the parasympathetic side of the autonomic nervous system and glutamate with the sympathetic (fight-or-flight) side. Today's society has people stuck in sympathetic dominance, with anxiety a constant part of our life. Ironically this hyperstimulated state can be very inefficient and in fact calming the system (parasympathetic) often leads to better work productivity as well as a better quality of life.
Also, many toxins, such as mercury, neuroinfection (such as neural lyme disease), and some physical traumas, such as head trauma, elicit neurotoxic effects though glutamate receptors in the brains (called NMDAmediated neurotoxicity). This produces a feedback loop of inflammation, neurotoxicity, and anxiety. GABA supplementation can help break that loop by building the pool of GABA. Use of powdered GABA, though, is not efficient because it is poorly absorbed and does not easily cross the blood-brain barrier.
Quicksilver Scientific's GABA does contain ethanol, which is a chemical that some individuals may prefer to avoid. We suggest trying PureAbsorb's Natural Bliss for natural gaba and no chemical additives.
Production Technology Features:
Tightly controlled small sizing, with a GABA mean size 50-100nm
Pleasant taste, suitable for intra-buccal delivery
Precise pump delivery
Easy water-dispersability when desired
Benefits:
Intraoral delivery for systemic availability
Easy to dispense and take directly from bottle
Because our gaba can only partially cross the blood brain barrier, multiple servings may be needed throughout the day. For some, one serving is enough, but most customers require multiple uses to keep feeling the effects. If you prefer to take one serving for the day and be done with it we recommend the PureAbsorb brand of gaba known as Natural Bliss, which can be utilized by the body more completely.
Warnings:
Contains ethanol
If pregnant, nursing, or taking medication, consult your physician before taking this product
Keep out of reach of children
Do not exceed recommended dose
* These statements have not been evaluated by the Food and Drug Administration. This Product is not intended to diagnose, treat, cure or prevent any disease.