Description
100% organic, cold-pressed, extra virgin olive oil.
Designed to moisturize, purify, and nourish the skin.
Natural and safe: No fillers, stabilizers, GMOs, preservatives or binders.
Glass packaging: No risk of BPA from plastic liners or plastic break-down over time.
Made in the USA!
A Brief History of Olive Oil as a Cosmetic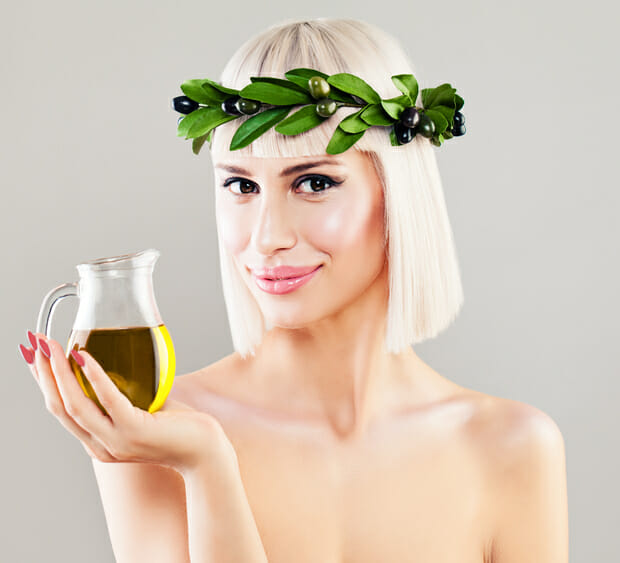 Olive oil is one of the world's first cosmetics which is widely used for most of the same purposes to this day! Since the times of ancient Greece (as early as 6th century B.C.!), people have used olive oil for everything from skin moisturization, to hair-care, and even antibacterial protection.1
While the true benefits of olive oil were somewhat speculative in the eyes of the ancient Greeks, modern science has since validated every one of these uses, and even uncovered benefits of which the Greeks couldn't have been fully aware.
For some Greeks, the smoothing, glistening, and fragrant qualities of the oil may have been enough to persuade them into continuous use. What they may not have realized is that the maintenance of smooth and moisturized skin is one of the best ways to prevent wrinkling, sagging, and even more serious skin health issues that might come with old age and prolonged exposure to the sun.
Why Choose PurO3 Ozonated Oils Over Others
In addition to the selection at your local grocery store, there are countless skincare products which utilize olive oil as their primary ingredient. Some of these sadly feature low quality oils which have been damaged by high temperatures and other basic processing errors which are implemented to cut corners and save on costs. Others fail to provide 'ozonated' olive oil which is steadily becoming recognized as the superior form for optimal skin health support.
Ozonated oils are those which have been treated with ozone (O3) gas. The ozone injection oxides all soluble antioxidants and polyunsaturated fatty acids, further purifying the oil and potentially accentuating its antioxidant properties. As a result, ozonated olive oil may serve as a more effective scavenger of free radicals and other toxins in the pores of the skin.
However, even ozonated olive oils are very common on the internet and vary greatly in overall quality. The primary issue at play is proper ozone saturation. Olive oil which has been properly ozonated will lose its golden color, becoming more and more transparent as the ozone gas does its work.2
Insufficiently ozonated oils will also retain their liquidity even after being placed in the fridge. All of PurO3's oils have been so thoroughly and experly ozonated that they change from a liquid into a thick, clear salve – a clear indicator of their quality over other brands! This is just the most important of many reasons why you should choose PurO3 for all your ozonated oil needs.
Warnings:
If pregnant, nursing, or undergoing treatment for a medical condition, consult your physician before taking this product
Keep out of reach of children
Do not exceed recommended dose
* These statements have not been evaluated by the Food and Drug Administration. This Product is not intended to diagnose, treat, cure or prevent any disease.