Enzyme Science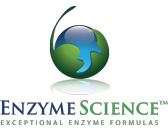 Enzyme Science is a supplement company which is on the cutting edge of purity and quality. It's all thanks to the attention paid to sourcing raw materials, and the rigorous standards of quality steadfastly upheld in the manufacturing process.
The FDA's Good Manufacturing Practices (GMPs) for Dietary Supplements requires manufacturers to establish quality control procedures and standard operating procedures such as pre-market safety determinations, toxicology reports, stability testing, ingredient identity testing, and serious adverse event reporting. Enzyme Science exceeds FDA requirements for Good Manufacturing Practices by voluntarily becoming certified by NSF International (GMP Certified). NSF is a third party GMP auditing and compliance company that is well known for having the highest standards of GMP Certification. The result of this additional audit is superior manufacturing standards.
Enzyme Science has spared no expense to ensure that their formulas are completely free of fillers and excipients, neither do they utilize any flow agents in their production. This guarantees that their products are unrivaled in purity, bioavailability, safety, and efficacy.