Inspiration and Encouragement – June 2019 | Father's Day
Scripture Quote
I John 2:14: "I have written unto you, fathers, because ye have known him that is from the beginning. I have written unto you, young men, because ye are strong, and the word of God abideth in you, and ye have overcome the wicked one."
A Merry Heart
In Sunday school, they were teaching how God created everything, including human beings. Little Johnny seemed especially intent when they told him how Eve was created out of one of Adam's ribs. Later in the week, his mother noticed him lying down as though he were ill, and said, 'Johnny what is the matter? 'Little Johnny responded, 'I have a pain in my side. I think I'm going to have a wife.'
You're IQ
"I am only one, but I am one. I cannot do everything, but I can do something. And because I cannot do everything, I will not refuse to do the something that I can do." ― Edward Everett Hale
"Faith and works are bound up in the same bundle. He that obeys God trusts God; and he that trusts God obeys God. He that is without faith is without works; and he that is without works is without faith" – Charles Spurgeon
My All-American Dad
This time of year, makes me reflect on my father in a special way. Dad was in the Army for 37 years so Memorial Day always meant a lot to him and his birthday was in June about a week before Father's Day.
All-American in his work ethic: Dad was an incredibly hard worker and always took his responsibilities seriously. He was highly organized and made sure everything he was responsible for was done right. Dad had the same approach to everything whether it was for work or a volunteer project he gave it the same effort. He ran a youth football league in our city which my brother and I played in when we were younger. My grandfather came over from Italy and it took him 4 years to save up enough money to bring the rest of the family over. Hard work you might say was a family tradition.
All-American in his courage: My dad enlisted in the army so he could fight in World War II. He was a tool and die maker before he enlisted and they were greatly needed during the war so he did not have to join the army, but he wanted to. He spent 37 years in the military and retired as a Sargent Major. He had his unit he was in charge of for years and ran it with great precision and pride. My dad was also in the Korean War. He loved the army and his country very much. He was the first one in our family born in America and his love of country was always evident.
All-American in his compassion: Dad always had a kind heart, but would never share his feelings very much at all. He had an old school approach and kept most things to himself. When my mom's health got very bad my dad gave her great care around the clock care. I saw a tender side of my dad that before you would only see glimpses of, but now was in full display. I believe he took a few years off his life by all the things he did for my mother. My dad sacrificed for his country, his family and now for the person he loved the most in this world my mom. Dad would never brag about his sacrifice, he just did it because he believed it was right.
All-American in his attitude as he never complained: When dad started to decline in health, he did not complain about all the things he could not do. He drove into his early 90's and stayed active until the last few months of his life. I don't remember my dad complaining about anything when I lived at home. I am sure he had his frustrations, but he did not indulge in self-pity.
My dad was hospitalized and my family and I drove several hours (as I lived in a different state) to see him. It was hard to see dad in such rough shape, although it was great to see him again. Then the end was near and my two sisters and brother went to the hospital. One of my sisters called and held the phone so I could speak to him one last time. I told him that I loved him and that God loved him as quoted John 3:16 "For God so loved the world, that he gave his only begotten Son, that whosoever believeth in him should not perish, but have everlasting life." and then I prayed with him. After I hung up the phone, I shed many tears and I thanked God for the wonderful father I had.
In my house, I have a section that pays tribute to my dad. I have one of his flags, several medals, his picture and many great memories that I will always cherish. I had the privilege to speak at dad's funeral and honor his great memory. My dad was all American hero as a solider, father and husband.
-Kurt LaCapruccia
Fresh Manna
Unfulfilled Expectations
Proverbs 13:12 "Hope deferred maketh the heart sick: but when the desire cometh, it is a tree of life."
When what we greatly desire in our heart does not happen in the way in which we planned we suffer great personal disappointment. When the thing we desire is so close to our grasp and then slips away out of our reach our heartbreaks and great frustration sets in.
I lived in Western New York (outside of Buffalo) for 6 years. One of the things that people in the area are passionate about is the Buffalo Bills football team. January 27th, 1991 was the day that Western New York had been waiting for with great anticipation. It was their first Super Bowl appearance and they were very optimistic that they would win. It came down to the last play and Scott Norwood would attempt a 47-yard field goal for the Bills. If he makes it, they win the game and if he misses, they lose the game. The kick had the distance, but it was wide right and the Buffalo Bills lost the game. The team and all the Bills fans were crushed that day.
I did not move to Western New York until 2006 and 15 years later people were still agonizing over that loss. Though they played in the next 3 Super Bowl games and they lost every one of them, but first one was the most painful loss of them all.
When people face disappoints with their marriage or their children it can be devastating. When one suffers a setback in their career or their ministry it can be a very painful thing to deal with. When we write the script for our life, we do not include children turning away from God, business reversals, ministry failures, poor marriages or premature deaths.
When something we desire comes to pass what great joy it brings to our life. I remember back on February 4th, 1991 Pam and I had one of the greatest blessings of our life. We had prayed 6 years for a child and God allowed us to adopt our son Mark on that day. There was wonderful joy that day and it has grown more blessed with each passing year. Mark is now 26 and is the music director of our church and I am so thankful for him.
It is not about being well known, but about moving forward with your life and being the best, you can be for God. Briana Pulido is a name that very few people would recognize. She played on woman's basketball team at the University of Connecticut. She was a walk on and was overshadowed by three other seniors who were All Americans. They led UConn to 4 straight national championships and will play in the WNBA. Briana will go to medical school and pursue her dream. She got to play in the championship game this year in the closing seconds that UConn had already had the victory in hand. She got to make a basket in the closing seconds and her teammates cheered for her greatly.
Perhaps at times you feel overshadowed by others or feel like you are making no impact on anyone. This simply is not true at all. God has you were you are for a specific reason and we need to fulfill that purpose for God's honor and glory.
We should desire to be used of God in our life. We need to focus on surrendering our life to God and leaving the results with him. Man will glory in statistics, but God will glory in our relationship with him and our service that comes from a pure heart. May we bathe our desires in prayer and let God adjust them according to his will so our focus is on him.
Never settle for less than God's best in your life. Keep moving forward, never lose your vision and never give up hope no matter what your circumstances are. God loves you and a great heavenly host is cheering for you.
– Kurt LaCapruccia
More than Conquerors
Bobby Bought his Boat Back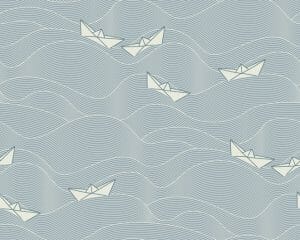 Bobby was thrilled that he had made a boat all by himself. It was just a little boat with a handkerchief for a sail. It had taken a long time to make his boat. He had carved the big block of wood slowly and carefully, and he didn't cut himself even once. The last coat of paint was dry, and it was beautiful.
Bobby couldn't wait to sail his boat in the river. He put it carefully in the water and then scampered downstream to catch it. But just then, a gust of wind pushed the little boat all the way to the middle of the river where the current was fast. Bobby tried to catch it, but he couldn't reach his boat, even with a long stick he found on the bank. He cried as he saw his boat disappear quickly downstream.
A few days later Bobby was walking by the store and to his amazement, he saw his boat in the window. He ran inside and asked the clerk if he could have his boat back. "If you want that boat, you'll have to buy it for the price on the tag said the clerk. Bobby walked away sadly because he did not have the money to buy the boat back.
He asked his mother if he could earn the money to buy his boat, and she agreed. So, Bobby went to work. Every day he did extra chores for his mother and for the neighbors. It took him many days to earn the money, but finally had enough. He rushed to the store, paid the clerk and happily took his boat home. On the way home he hugged his boat and said: "Little boat, you're twice mine now. First I MADE you and then I BOUGHT you!"
Do you know that every single person is just like Bobby's boat? We are all made by God. Mankind sadly wandered away from God because of his sin. Romans 3:23 "For all have sinned and come short of the glory of God." Jesus who created us loved us so much that when we were lost in our sin he came to this earth to pay the price for our sin. Romans 5:8 "But God commendeth his love toward us in that, while we were yet sinners, Christ died for us." It was Jesus death, burial and resurrection from the dead that paid the price for our sin and made it possible for us to have eternal life.
Jesus invites us to come back to God by asking forgiveness for our sins and asking Jesus to save us. By faith if you will ask Jesus to save you then he will cleanse you from all your sin and give you eternal life and one day you will be with him in heaven. Jesus created you, died for and now he invites you to receive him as your savior. Why don't you stop what you are doing and ask him to save you right now? (For he saith, I have heard thee in a time accepted, and in the day of salvation have I succoured thee: behold, now is the accepted time; behold, now is the day of salvation.) II Corinthians 6:2.