Description
Provides a portable and convenience source of gentle micropulsing currents.
Can be used to make your own Ionic-Colloidal Silver.
Designed to support the body's natural electrical currents for energy and general well-being.
Accessories include:

One (1) Carrying Case
One (1) Product Manual
One (1) Micropulsing Cord
Two (2) Pair Rubber Probes
Six (6) Pair Cotton Sleeves
One (1) Arm Band with Clip
One (1) Neoprene® Velcro® Wrist Strap
One (1) 50 ml Dark Glass Dropper Bottle
One (1) 9–Volt Alkaline Battery
One (1) Silver Wire Holder
Two (2) Silver Wires .9999 (4 Nine) Purity, 8 inches (20 cm), 14 AWG (1.62mm dia.)
One (1) Green Scrubber Pad
What is Micropulsing and The Silver Pulser?
As strange as it may sound, the human body is full of electrical currents. While this may seem worrying or unnatural at first, it is actually a completely organic facet of human health. In fact, the processes by which the brain sends signals to the rest of the body are entirely dependent on electrical currents. Long story short: without electrical currents, the human body could not function.
This is where The Silver Pulser from SOTA comes in. By delivering gentle microcurrents via electrodes strapped to the wrist, The Silver Pulser is designed to work with the organic electrical currents in the body to support energy and general well-being.
What is Colloidal Silver?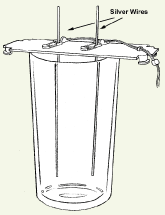 Silver is an incredibly useful metal. In fact, its usefulness extends well beyond its appearance and monetary value. Most notably, silver is used in numerous filters and disinfectant products due to its unique antimicrobial properties.
The Silver Pulser gets its name for its incredible ability to produce silver electrolytes when suspended in water. For this purpose, The Silver Pulser comes equipped with a set of silver wires, a wire holder, and detailed instructions for making from two cups (500 ml) to one gallon (4 liters) of Ionic-Colloidal Silver at a time.
Click here to download the product manual.
Do Not Use
Do not use in the following situations as safety has not been explored using the Micropulsing function:

a In the case of pregnancy.
a With an active implanted device such as a pacemaker, etc.

As with all electrical products, do not use near water, when driving a car or when operating heavy equipment.
Do not connect the Micropulsing Cord or the Silver Wire Holder to any other USB outlet, such as a computer or power supply.
Do not plug any other USB connections into the Silver Pulser, other than the Micropulsing Cord and the Silver Wire Holder.
Cautions
Micropulsing Cautions

Do not place the Micropulsing Rubber Probes over skin lesions, abrasions, new scars, cuts, eruptions or sunburn.
Do not use if the Micropulsing suddenly feels different or prickly and the Yellow light stops flashing. Turn the unit OFF immediately and contact SOTA.
Caution is advised if using potentially harmful substances such as recreational and prescription drugs, as it is not known if microcurrents will interact or if individual reactions may occur.
Caution is required in the following situations as a burn may occur, which could scar:

a Do not apply the bare metal pins to the skin.
a Allowing the Cotton Sleeves to dry out while Micropulsing.
a Sleeping while Micropulsing, as the Cotton Sleeves may dry out.

Ionic~Colloidal Silver Cautions

We recommend taking occasional breaks from consuming Ionic~Colloidal Silver for the following reason:

A handful of people have experienced argyria after drinking large amounts of Ionic~Colloidal Silver daily, over a long period of time. Argyria is a bluish tinge of the skin. This occurs when excess silver is eliminated through the skin and exposed to light. Darkening of the moons of the finger nails is usually an early sign.
The risk of argyria is considered greater for those who are ingesting incorrectly made Ionic~Colloidal Silver and to a lesser degree, those who are deficient in selenium or vitamin E

When making and drinking Ionic~Colloidal Silver as currently recommended by SOTA, the risk of argyria is extremely rare.
Warnings:
If pregnant, nursing, or undergoing treatment for a medical condition, consult your physician before taking this product.
Keep out of reach of children.
Do not exceed recommended dose.
* These statements have not been evaluated by the Food and Drug Administration. This Product is not intended to diagnose, treat, cure or prevent any disease.
* The opinions stated are the views of DR Vitamin Solutions LLC and do not represent the opinion of SOTA instruments. The SOTA units are classified as Consumer Products designed to be used as part of a Wellness Lifestyle. The SOTA units are not medical devices are not intended to diagnose, treat, or cure any medical health condition. The use, safety, or effectiveness of the SOTA units has not been approved by any government agency. Please consult a health practitioner for any medical or health condition. Results are not typical.