Description
While there are countless milk thistle supplements on the market, remarkably few of them utilize liposomal delivery. This is particularly troubling when you consider that milk thistle's bioavailability is very low in certain individuals. Phospholipid encapsulation may present a solution to this problem, putting this Nanoemulsified Milk Thistle from Quicksilver Scientific at the cutting-edge of milk thistle and silymarin supplementation.
Contains 30 mg of Milk Thistle seed extract per serving emulsified with up to 100 mg of protecting phospholipid layers.
May support the production of glutathione in the liver.
Provides antioxidant support and hepatoprotective properties.
One of the most renowned herbs for supporting a healthy liver.
Liposomal delivery may greatly enhance bioavailability in certain individuals.
Understanding Liver Health and Milk Thistle
The liver is the human body's central detoxifying organ. It works to metabolise harmful invaders like ethanol, acetaminophen, and carbon tetrachloride, and flush them from the body via the urinary tract. As such, the healthy function of the liver is essential to keeping the body detoxified and healthy in the long-term.
Milk thistle is widely regarded as the most effective herb for supporting the health of the liver and providing general hepatoprotective qualities. But what exactly gives this plant these exceptional nutritional properties? The answer to this question is actually somewhat simple: silymarin.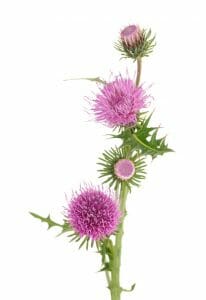 Silymarin – A Liver's Best Friend
Silymarin can be found exclusively in the seeds of milk thistle, and is thought to be the primary source of the plant's nutritional powers. The reasons for this are multiple, but perhaps the main one is that silymarin supports the production of glutathione (GSH) in the liver. Antioxidants like GSH are essential to the elimination of free radicals which are produced from the aforementioned metabolism of toxic substances in the liver. If the liver is overrun with these free radicals and the oxidative stress they cause to cells and tissues, then it may not function at required levels to keep the body properly detoxified, potentially triggering a chain reaction of cell damage and imbalance.
In addition to its antioxidant support properties, silymarin has also been studied for its potential to aid in protein synthesis in hepatocytes (liver cells) by stimulating RNA polymerase I activity. This may nutritionally strengthen the defense of these cells from free radicals and other agents which may cause them lasting harm.1
Warnings:
If pregnant, nursing, or undergoing treatment for a medical condition, consult your physician before taking this product
Keep out of reach of children
Do not exceed recommended dose
* These statements have not been evaluated by the Food and Drug Administration. This Product is not intended to diagnose, treat, cure or prevent any disease.