Description

Black Box II from Quicksilver Scientific contains a 4-week supply of supplements which were chosen for their potential to support of the body's natural processes of detoxification from toxins, plastic compounds, bacteria, herbicides, pesticides, and even heavy metals. The next level of professional-grade liver detox.
An advancement of the original Black Box which features Nanoemulsified DIM, Dr. Shade's BitterX, and Ultra Binder
A thorough and holistic detoxification regimen
Supports the function of bile and the facilitation of fat emulsification, absorption, and transportation.
Provides the body with glutathione, a master detoxifier and the body's main antioxidant.
Comes with detail instructions which carefully outline the detox protocol.
Can be shipped with ice to preserve maximum potency.
Black Box II Liver Detox contains some of Quicksilver Scientific's most effective liposomal antioxidant products and toxin binders at a special discounted rate. The exact contents of the box include:
1 x Detox regimen instructions.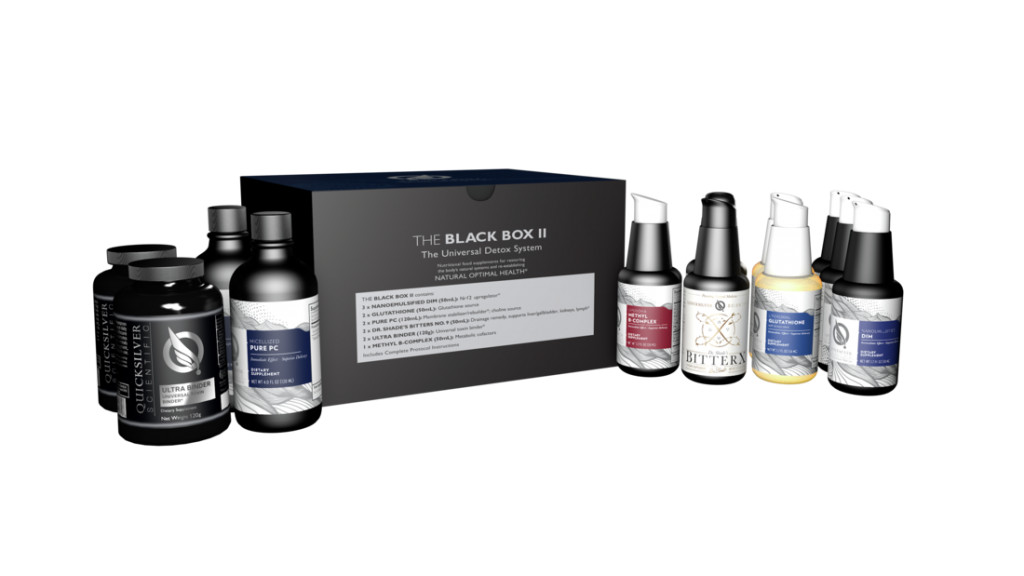 Notice from the Manufacturer, Quicksilver Scientific: this protocol contains product that must be stored in the refrigerator.
* These statements have not been evaluated by the Food and Drug Administration. This Product is not intended to diagnose, treat, cure or prevent any disease.