Description
A breakthrough in ozone and CBD supplementation.
CBD contained in hemp oil may aid in anti-inflammatory activity and feelings of relaxation.
Hemp oil retains the highest ozone potency of all ozonated oils.
Ozone is designed for antioxidant support and other aspects of cellular health.
Suppository application may greatly enhance CBD and ozone bioavailability.
Benefits of Hemp Oil and CBD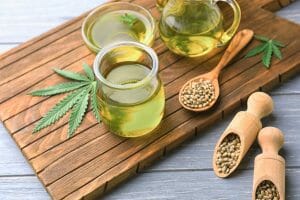 Due to the illicit nature of most cannabis plants, the incredible nutritional potential of industrial hemp and the cannabidiol (CBD) they contain has been largely ignored in most western societies. This is a shame because of CBD's extraordinary potential for support of everything from pain management to natural sleep and relaxation processes.
To be perfectly clear- industrial hemp does not contain significant enough quantities of the hallucinogenic cannabinoid Tetrahydrocannabinol (THC) to be considered a mind-altering substance. However, it does contain CBD which is a non-psychoactive cannabinoid that may provide exceptional anti-inflammatory support and feelings of relaxation. The bottom line? Industrial hemp and CBD won't get you high, but they may provide valuable nutritional support for your body and mind.
Benefits of Ozone
Ozone, also known as activated oxygen or simply O3, is a gas which may be uniquely capable of providing numerous health benefits when infused with natural oils. Not only does O3 provide its own antioxidant and anti-inflammatory support potential,1 it also helps to purify and enhance the nutritional qualities of whatever oil it is infused with, hemp being one of the most potent options as it retains the most O3 from infusion.This is just one of many reasons why these PurO3 Ozonated Hemp Oil Suppositories are a breakthrough in CBD bioavailability!
Warnings:
If pregnant, nursing, or undergoing treatment for a medical condition, consult your physician before taking this product
Keep out of reach of children
Do not exceed recommended dose
* These statements have not been evaluated by the Food and Drug Administration. This Product is not intended to diagnose, treat, cure or prevent any disease.