Description
18.53 mg dose of reduced glutathione per patch.

Also features a

blend of antioxidants including NAC, CoQ10, PQQ, and much more!

Transdermal absorption may greatly improve GSH bioavailability.

All patches are crafted from natural and hypoallergenic materials.

Use Coupon Code save5 to save 5% off your purchase!

Fast and Free Shipping on all domestic orders.
Benefits and Shortfalls of Glutathione Supplementation
There's no room for debate around the importance of reduced glutathione (GSH) in the human body. Sometimes referred to as the 'master antioxidant', GSH plays a tremendously significant role in scavenging free radicals, limiting oxidative stress, and relieving the liver of toxic overload. All of these functions are well documented and acknowledged in numerous scientific studies and reviews.1,2,3
Here's the catch: not everyone is convinced that oral GSH supplementation is capable of raising overall glutathione levels in the body. In fact, one trial showed that no significant differences in bodily glutathione or oxidative stress biomarkers were observed in those who were receiving 500 mg of oral GSH twice a day over a 4 week period.4
This is very troubling news for those who are in need of meaningful and effective GSH supplementation. Thankfully, there are countless alternative GSH delivery methods which have been developed specifically to avoid the pitfalls of oral consumption. Transdermal absorption is perhaps the most revolutionary of all these methods.
Reduced Glutathione Delivery Methods
One huge problem with oral GSH is that it has to pass through the entirety of the digestive tract. The fragility of GSH molecules makes them particularly susceptible to degradation from stomach acid and other aspects of the digestive process. Liposomal glutathione products attempt to circumvent this issue by protecting the fragile GSH molecules with layers of fatty phospholipids. However, this may still leave the GSH vulnerable to degradation or malabsorption.
Suppository GSH application avoids the digestive tract entirely by releasing the molecules directly to the porous tissues of the lower bowels. This method is likely to provide high absorption rate, yet it can be much more expensive, inconvenient, and uncomfortable to those unfamiliar with suppository application.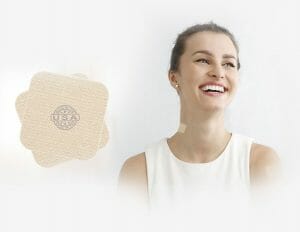 Then there's transdermal application. This means that GSH molecules are applied to the skin from whence they can be absorbed into the bloodstream. While there are number of topical GSH creams which fit this description, they are unlikely to provide the high absorption rate and efficacy of PatchMD Glutathione Topical Plus Patches.
All PatchMD Topical Patches are designed to provide you the best in transdermal application. This is achieved by a targeted 8-hour sustained release of nutrient content which transdermal creams are simply incapable of providing. In addition, these patches are much more convenient to wear on the go, or even in your sleep.
As if this weren't enough, PatchMD Glutathione Topical Plus Patches also contain a blend of nutrient cofactors and fellow antioxidants which may further boost the presence and efficacy of GSH in the body. Some of these other ingredients include N-acetyl-cysteine (NAC) – a direct precursor to GSH formation – CoQ10, Vitamin C, and magnesium. No other supplement on the market offers this particular nutrient blend.
Warnings:
If pregnant, nursing, or undergoing treatment for a medical condition, consult your physician before taking this product.
Keep out of reach of children.
Do not exceed recommended dose.
* These statements have not been evaluated by the Food and Drug Administration. This Product is not intended to diagnose, treat, cure or prevent any disease.