Description
225 billion CFU of 6 different probiotic strains per serving.
Maximum-strength for cases of acute gastrointestinal (GI) and immune challenges.
May aid in healthy digestion, immune response, anti-inflammatory activity, antimicrobial activity, and more!
Also features Larch Arabinogalactan for use as prebiotic fiber.
Packet formulation is convenient and easy to take on-the-go.
15 complete servings per container.
Why Choose High-Dose Probiotics
Probiotics, also known as 'good bacteria', have a profound impact on the health of the entire human body. While the central probiotic flora is located in the gut and plays an important role in healthy digestion, certain bacterial strains have a positive impact on everything from the immune system to cognitive function.
Given these facts, it's no big surprise that probiotic supplements are some of the most popular on the market. However, it's not all good news. The difficulty with probiotic supplements is that one has to sift through thousands of options to find true quality and attention to detail. It's important to take this decision seriously and not just settle with the cheapest option you can find. This is because probiotic supplements vary greatly in their contents and overall quality.
One of the most important factors to pay attention to when shopping probiotics is dosage. As opposed to most ingredients which are measured in grams and milligrams, probiotics are measure in CFU. CFU stands for colony forming unit.
While most probiotic supplement brands will offer only 25 – 50 billion CFU per serving, Ortho Molecular Products Probiotics 225 contains (as the name might suggest) an approximate total of 225 billion CFU from 6 different probiotic strains per serving! This number is almost completely unrivaled on the supplement market. Multiple scientific studies have suggested that higher dose probiotics supplementation may be particularly effective in certain individuals.1,2 For this reason, those who have had underwhelming results from other probiotic supplements may find the nutritional support they need in Ortho-Molecular Products Probiotic 225.
Probiotics Strains – Functions & Benefits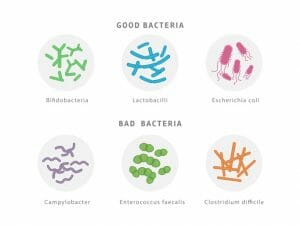 Ortho Molecular Products Probiotic 225 contains 6 different probiotic strains. These are Lactobacillus acidophilus (La-14), Lactobacillus plantarum (Lp-115), Bifidobacterium lactis (Bl-04), Lactobacillus salivarius (Ls-33), Lactobacillus casei (Lc-11), and Bifidobacterium bifidum (Bb-02). Let's take a closer look at the unique properties and potential health benefits of each strain:
Lactobacillus Acidophilus (La-14) – Found primarily in the intestinal tract and mouth, La-14 plays a role in the fermentation of various carbohydrates for the sake of lactic acid production.3 Lactic acid, in turn, may aid in the absorption and bioavailability of minerals, including calcium, copper, magnesium and manganese.4
Lactobacillus Plantarum (Lp-115) – This strain is perhaps the most common due to its presence in some of the most popular fermented foods like sauerkraut, pickles, and sourdough. Lp-155's primary use is to compete against harmful bacterial strains. This is all thanks to their aiding in the production of bacteriocins (lethal proteins) which inhibit bacterial growth.5
Bifidobacterium Lactis (Bl-04) – Primarily located in the colon, Bl-04 may aid in a balanced immune response for those who are hypersensitive to environmental allergens.6
Lactobacillus Salivarius (Ls-33) – Similar to Lp-115, Ls-33 helps to produce bacteriocins. In particular, bacteriocins which inhibit the growth of Helicobacter pylori.7
Lactobacillus casei (Lc-11) – May support healthy immune response by way of aiding in inflammatory pathway regulation and natural defense mechanisms against oxidative stress.8,9
Bifidobacterium bifidum (Bb-02) – Competes with harmful bacteria such as E. coli, Staphyolococcus aureus and Camplylobacter jejuni.10
Warnings:
If pregnant, nursing, or undergoing treatment for a medical condition, consult your physician before taking this product.
Keep out of reach of children.
Do not exceed recommended dose.
* These statements have not been evaluated by the Food and Drug Administration. This Product is not intended to diagnose, treat, cure or prevent any disease.