Description
The same quality formulation you know and love from Life Vitality Ultra Eye and Vision Support.
Features a potent dose of N-Acetyl Cysteine (NAC).
Contains carotenoids lutein and beta-carotene (vitamin A) – two of the very most important nutrients for eye health.
Helps keep the cornea defended and moisturized.
Designed to help the body resist retinal inflammation and degradation.
Contains zinc, NAC, and L-taurine for additional support.
Carotenoids – Essential for Healthy Eyes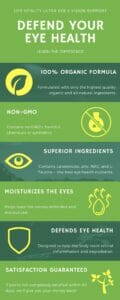 Carotenoids are pigments which give various fruits and vegetables an orange or yellow color. Odds are, any given plant which features these colors will have some quantity of carotenoids. DR Vitamin Solutions Ultra Eye and Vision Support contains two varieties of carotenoids which have both been studied for their support of healthy vision – beta-carotene and lutein.
Beta-carotene a form of vitamin A which is found in particularly high concentrations in carrots. For this reason, beta-carotene is thought to be the source of carrot's purported eye health properties. It is particularly useful for helping to defend and moisturize the cornea of the eye.1
Lutein is a carotenoid found in leafy vegetables of green and yellow hue – particularly kale, spinach, and swiss chard. It is one of only two carotenoids which can be found in the eye, particularly in the retina where it helps to resist retinal inflammation and degradation. Lutein is also a powerful antioxidant which may fight against oxidative stress in the retina.2
NAC and the Eyes
N-Acetyl Cysteine (NAC) is a powerful antioxidant and free radical scavenging agent. As such, it is thought to aid in cellular defense against oxidative stress-induced neuronal death in cultured granule neurons which are essential to the functionality of the eyes.3
Perhaps even more importantly, NAC is a necessary precursor to the formation of intracellular glutathione. Glutathione is essential to multiple aspects of eye health. It is involved in everything from inner eye aqueous fluid outflow to the maintenance of lens transparency. Sustaining healthy concentrations of glutathione in the eyes is essential to healthy vision, and NAC is renowned for its support glutathione formation in the eyes and elsewhere throughout the body.4
Note:
Non-GMO Formula!
This product is manufactured and packaged in a facility which may also process milk, soy, wheat, egg, peanuts, tree nuts, fish and crustacean shellfish.
Store in a cool, dry place.
Warnings:
If pregnant, nursing, or undergoing treatment for a medical condition, consult your physician before taking this product
Keep out of reach of children
Do not exceed recommended dose
* These statements have not been evaluated by the Food and Drug Administration. This Product is not intended to diagnose, treat, cure or prevent any disease.