Description
It is entirely common for men of advanced age to experience difficulties with healthy sexual response and performance. As such, many turn to medications which increase blood flow to the genitalia. Others seek all-natural aphrodisiacs which can achieve these same benefits without the negative side-effects. Black Ginger or Kaempferia Parviflora is on the very cutting-edge of these natural remedies, and may provide nutritional benefits for physical performance and healthy erectile function.
Features 100 mg of KaempMax™ black ginger (Kaempferia Parviflora).
Designed to nutritionally aid in healthy male sexual response and performance.
Black Ginger has long been used for its purported aphrodisiac properties.
Modern studies have reported positive results in healthy erectile function in elderly men, as well as physical performance in people of all ages and genders.
Aphrodisiac Properties of Kaempferia Parviflora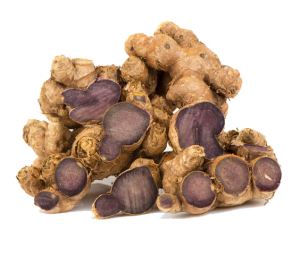 Kaempferia Parviflora, also known as Thai Ginseng, or Black Ginger, has recently garnered a great deal of attention for its potential to support healthy male reproductive activity. But what are the actual nutritional mechanisms through which this is achieved, and can this positive buzz really be trusted?
In addition to its long-standing reputation as an aphrodisiac, the rhizome of the Kaempferia Parviflora root has long been used for its exceptional nutrient density, the most important of these nutrients being a bioflavonoid compound known as methoxyflavone. Methoxyflavone may have an effect on how the body's natural ability to break down chemicals known as hormones. Though, one study reported no significant change in the hormonal levels of human recipients of Kaempferia Parviflora supplements.1
Despite this, some people think black ginger supplements might cause the body to have more of the hormone called testosterone, or may otherwise help to balance hormonal levels in the body. Not only is this doubtful, it is also worth noting that increased testosterone levels can be potentially harmful to the body, and may not provide significant improvements to sexual performance. However, one study indicates that the bioflavonoid content may provide substantial nutritional support of physical endurance and performance as well as antioxidant protection for the body.2
Kaempferia Parviflora and Erectile Function
Another potential effect of Kaempferia Parviflora supplementation could involve an increase in blood flow to the testis and other areas of the male genitalia. The first scientific basis for this claim was a 2008 study that reported a positive impact on blood flow to the testis of male rats.3
It was impossible to say if a similar effect would occur in humans at that time, but a 2012 study which used a group of 45 elderly male recipients reported improvements in healthy erectile function based on a variety of metrics like size of the erection, and latency of response to erotic stimuli.1 This would suggest that there is some level of impact on blood flow to the human male genitalia upon consumption of Kaempferia Parviflora, but more there is still much more to be learned about the exact basis of these effects.
Note: Non-GMO
Warnings:
If pregnant, nursing, or undergoing treatment for a medical condition, consult your physician before taking this product
Keep out of reach of children
Do not exceed recommended dose
* These statements have not been evaluated by the Food and Drug Administration. This Product is not intended to diagnose, treat, cure or prevent any disease.