Description
Lanomax has been expertly crafted to provide you and the pets you love with the most effective lanosterol eye drops on the market. Patented ThruDelivery™ technology may improve the ability of lanosterol to penetrate and absorb into the lens of the eye where it is most needed to support healthy vision. These powerful drops have been proven as safe for use in a variety of common household pets, and they don't require any prescription.
Each bottle contains 20 mg (2 mg/mL) of lanosterol – a breakthrough eye health compound with amazing potential for vision clarity support.
Studies have shown that direct injection of lanosterol reduced the cloudiness of cataracts in rabbits and dogs.
Cutting-edge ThruDelivery™ technology is designed to improve the absorption rates of lanosterol.
Drops are safe and preservative free!
10 mL bottle.
Recent Studies of Lanosterol
Lanosterol is a chemical compound which has recently garnered a great deal of attention from Ophthalmologists and other health experts for its potential as a natural agent to fight the aggregation of proteins on the lens of the eye, which is the basis of cataract formation. The reason behind all this positive buzz is a 2015 study conducted by UC San Diego Ophthalmology professor Kang Zhang which demonstrated the effectiveness of lanosterol at reducing cataracts and improving clarity in the eyes of rabbits and dogs.1 As such, it is thought that Lanosterol may have a positive effect on some forms of cataracts in a variety of animals.
However, a contradictory study was published later that year which reported no positive effect of standard lanosterol-based eye drops on cataracts in humans. The suspected reason for this is that the lanosterol was unable to penetrate the lenses of the eyes where cataracts are formed. Zhang's earlier study had circumvented this problem by issuing direct injections of lanosterol to the lens. This might imply that lanosterol does indeed have potential to resist and/or reverse cataract formation, but that standard eye drops alone aren't absorbent enough to have a significant impact on the clarity of the lens.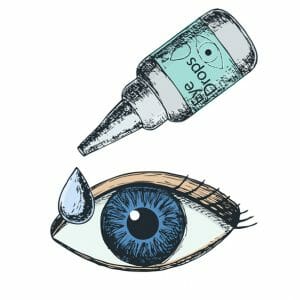 Lanomax – Lanosterol Delivery without Injections
There has long been a demand for truly effective pet cataract treatments which do not require injections or surgery. To address these demands, Lanomax has developed these highly advanced eye drops which utilize their patented ThruDelivery™ technology. The exact processes and ingredients behind this solution have not been disclosed in the interest of reducing market competition, but what's certain is that it has been designed to maximize the lens penetration of lanosterol, and that it cannot be found in any other eye drops on the market. They have also been proven as safe for use in a variety of common household pets.
Note: Once a vial is open, keep it in a fridge, but do not freeze. Discard open vials within a month. If kept out of the sunlight, unopened vials may be stored at room temperature.
Caution: Do not touch the tip of container to any surface to avoid contamination. Do not touch unit-dose tip to eye. Keep out of reach of children.
Warnings:
If pregnant, nursing, or undergoing treatment for a medical condition, consult your physician before taking this product
Keep out of reach of children
Do not exceed recommended dose
* These statements have not been evaluated by the Food and Drug Administration. This Product is not intended to diagnose, treat, cure or prevent any disease.