Description
Item Catalog Number: 73706
60 Slow Melt Tablets
There are countless supplements on the market which claim to support healthy glutathione levels, yet are flawed in their design and often fail to have any positive impact on the body. Enter Clinical Glutathione from EuroMedica – a superior glutathione formulation which is designed to optimize bioavailability. Features top-line Sublinthion® Reduced Glutathione and cutting-edge slow melt technology.
Sublinthion® is a patented reduced glutathione formula newly available abroad from France
Designed to be the most active and stable form of glutathione
Supports immune and detoxification functions, liver health, neurological health, and cellular protection from oxidative stress
Slow melt tablets absorb in the mouth cavity and avoid oxidation in the digestive system
Improves reduced glutathione levels in the blood by 230% when compared to capsules and chewable tablets
Has undergone extensive clinical testing
Reduced Glutathione v.s. Oxidized Glutathione
Glutathione is a central antioxidant compound which can be found in every cell of the human body. As such, it is necessary for detoxification and immune functions, liver health, and cellular defense against oxidative stress – a condition thought by many experts to be a key factor in the aging process. Bodily oxidative stress can be measured as a balance between reduced glutathione (GSH) – the form which is used in supplements – and oxidized glutathione (GSSG).1 GSH is essentially the active antioxidant form of glutathione, while GSSG is unbalanced and ultimately harmful to the body. A higher quantity of GSH as opposed to GSSG is required to protect the cells of the body from oxidative stress.
One reason why many glutathione supplements are thought to have low bioavailability – or low usefulness within the body – is that they contain GSH of a low quality which is unprotected, unstable, and more prone to becoming oxidized. In the interest of optimizing bioavailability, EuroMedica uses a patented reduced glutathione formulation of the highest and most stable quality known as Sublinthion® from Laboratories Le Stum. Devised and manufactured in France, this powerful formula has only been available abroad for a short time and is already considered to be the most stable and effective on the market.2
Optimal Bioavailability and Convenience with Slow Melt Delivery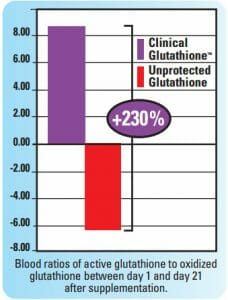 While the stability of supplemental glutathione is a critical factor in its overall bioavailability, perhaps an even larger factor is the method of delivery. Orally administered capsules and chewables seem to be especially problematic in terms of their usefulness to the body. The reason for this is that GSH is a particularly unstable and fragile nutrient to begin with. When it passes through stomach acid and other digestive processes, even the most stable GSH becomes oxidized, and any of it which is absorbed after that point may actually contribute to oxidative stress. This criticism even applies to food sources of glutathione like asparagus, avocado, and walnuts; though at least these deliver protective nutrient cofactors which oral supplements tend to lack.
Other means of delivery like suppository intake and IV injection are effective means of getting glutathione to the blood, but are costly and inconvenient. Clinics which administer IV injection can be rare to find in some areas and may require regular long commutes to consistently maintain healthy and balanced glutathione levels; while many people find suppositories to be uncomfortable and much more time-consuming than other means of at-home administration.
Finally, Clinical Glutathione from EuroMedica is designed to provide absorption rates comparable to IV injection in a convenient, at-home supplement formula. This is achieved through the application of cutting-edge slow melt delivery. The tablets dissolve in the mouth where the molecules absorb directly through the porous mucosal tissues of the mouth cavity – bypassing the digestive system entirely and entering the blood with its stability and activity levels intact. As a result, this supplement has been clinically shown to raise reduced glutathione levels by an astonishing 230% when compared to oral capsules and tablets!3
Note:
No sugar, salt, wheat, gluten, corn, soy, dairy products, artificial coloring, or artificial preservatives!
Warnings:
If pregnant, nursing, or undergoing treatment for a medical condition, consult your physician before taking this product
Keep out of reach of children
Do not exceed recommended dose
* These statements have not been evaluated by the Food and Drug Administration. This Product is not intended to diagnose, treat, cure or prevent any disease.