Description
A raw and pure source of phycocyanins from Arthrospira platensis (spirulina).
Provides health benefits from antioxidant activities.
Phycocyanins are renowned for their cardiovascular support properties.
Useful as both a dietary supplement and an organic blue food coloring agent.
Utilizes the highest quality of organic materials.
50 servings per container.
The Nutritional Power of Natural Pigments and E3Live Blue Majik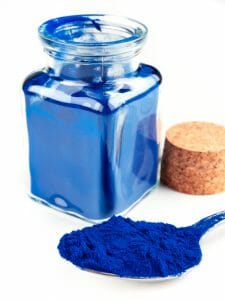 Pigments are a fascinating part of the natural world. Most people are aware that without pigments, our world would be bland and colorless. However, it is less common of knowledge that pigments also play an integral role in nutrition.
Biological pigments develop in plants and animals throughout the world. This includes anthocyanins which put the "blue" in blueberries, as well as astaxanthin which provides crustaceans with the vibrant red-orange color of their shells. Each of these compounds have shown in studies to possess exceptional nutritional properties, typically revolving around antioxidant activity.
Arthrospira platensis (Spirulina) is a type of algae which is distinguished by its vibrant blue pigment known as phycocyanin (PC), as well as its nourishing non-PC contents. Phycocyanin is often used as a natural food dye, and like so many other natural pigments it also provides some exceptional health benefits.
According to a 2016 study the effects of phycocyanin include antioxidant activity, neuroprotectivity, and various forms of cardiovascular support. As it were, cardiovascular support is the most widely-known and analyzed trait of Phycocyanin and includes protection from oxidative stress, mitochondrial damage, and support for healthy cholesterol levels already within normal range.1*
Blue Majik powder from E3Live is a rich source of phycocyanins from raw and organic Arthrospira platensis.
Warnings:
If pregnant, nursing, or undergoing treatment for a medical condition, consult your physician before taking this product.
Keep out of reach of children.
Do not exceed recommended dose.
* These statements have not been evaluated by the Food and Drug Administration. This Product is not intended to diagnose, treat, cure or prevent any disease.