Description
This all-in-one multivitamin contains over 415 nutrients.
Utilizes IntraCELL V technology to support natural nutrient absorption processes.
Delivers cardon-bonded trace dietary minerals.
The IntraMAX 2.0 Unsweetened formula contains 0 sweeteners and 0 grams of sugar.
Free of common allergens, Non-GMO, Gluten-free, Vegetarian, Ultra-Hypoallergenic and more!
The Comprehensive IntraMAX 2.0 Formula
There are countless multivitamins out there, so why choose IntraMAX 2.0 Unsweetened? The answer is simple: no other formula contains the breadth and quality of ingredients, or the attention to detail paid to bioavailability via IntraCELL V technology.
Lets start by taking a look at the ingredients. This comprehensive formula contains an astounding variety of over 415 different nutrients and botanicals. This includes a wide range of vitamins, minerals, amino acids, essential fatty acids and digestive enzymes.
However, as any savvy supplement shopper knows, the quality of the ingredients is much more important than the quantity. So, how does Drucker Labs ensure the quality of each and every ingredient contained in IntraMAX 2.0? It starts with rigorously sourcing organic ingredients. This is particularly important when it comes to the botanical extracts and herbal blends. When it comes to vitamins and minerals, IntraMAX 2.0 utilizes forms which are proven to be the most effective in the human body. This includes vitamin D3, or cholecalciferol, vitamin K2 as MK7/Menaquinone and multiple forms of vitamin C and other nutrients to ensure optimal digestive uptake.
IntraMAX 2.0 Contains:
415 + ingredients
Natural Peach/Mango flavor
100% Carbon-bond Organic
71 organic trace minerals (full spectrum, plant derived)
7 essential fatty acids
65 electrolytes
33 super green foods
16 digestive enzymes
14 seeds and sprouts
80 vitamin sources
12 macro minerals
8 protein minerals
8 essential sugars
119 bioflavonoids
154 antioxidants
38 essential oils
20 amino acids
12 carotenoids
27 vegetables
16 probiotics
Fulvic acid
Aloe vera
26 fibers
35 fruits
59 herbs
Silver
Noni
100% vegetarian
100% natural
IntraCELL V and Optimal Mineralization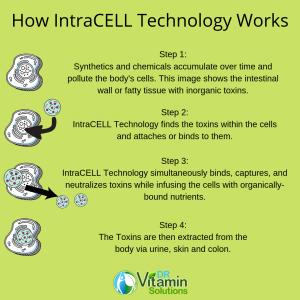 IntraCELL V technology is the crown jewel of the IntraMAX 2.0 formula. Without IntraCELL V, this formula would simply be a comprehensive liquid multivitamin with quality ingredients. There are competitors in the market which can offer that very thing, but no other formula contains anything comparable to IntraCELL V and the bioavailability it provides.
IntraCELL V is used to bond the mineral content of IntraMAX 2.0 with organic carbon compounds, thus breaking the nutrients down into smaller re-structured molecules which are more easily absorbed directly into the cells of the body which need them most. The absorption of minerals bonded with carbon is exactly as nature intended and can be found in many organic food sources.
Supplements which lack this attention to natural absorption processes may be much less effective, regardless of the quality of their ingredients. Even worse, modern commercial farming practices tend to reduce the quantity of organically carbon bonded trace mineral content in foods which would otherwise be rich in readily absorbable nutrients. This makes the importance of innovations like IntraCELL V technology even greater in the modern day.
Warnings:
If pregnant, nursing, or undergoing treatment for a medical condition, consult your physician before taking this product.
Keep out of reach of children.
Do not exceed recommended dose.
* These statements have not been evaluated by the Food and Drug Administration. This Product is not intended to diagnose, treat, cure or prevent any disease.