Description
100 mg Pycnogenol® and 100 mg grape seed extract per capsule.
Formulated for optimal polyphenol antioxidant content.
May provide aid for cognitive function, the immune system, anti-inflammatory activity & more!*
100% plant-based, non-GMO & vegan-friendly.
30 daily servings in every bottle.
A Brief Overview of Pycnogenol and its Benefits
If you're searching for the best plant-based antioxidants to bolster your immune system, you've probably noticed that there is no shortage of options. The natural world is full of compounds which possess antioxidant properties, but it's important to remember that not all antioxidants are made as equals.
Certain compounds have distinguished themselves as having stronger antioxidant properties than others, thus triggering a demand in the supplement market. This is particularly true of ingredients which are very rarely found in the average diet, like Pycnogenol®.
Pycnogenol is a patented, raw extract of maritime pine bark which is rich in a unique profile of antioxidant polyphenols. These pines are rarely cultivated outside of the southwest of France. Ingredients like grape seed extract provide a comparable profile of polyphenols, but there is simply no alternative source of Pycnogenol.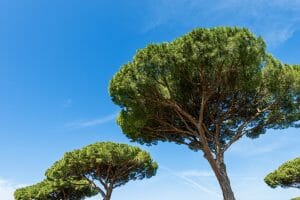 Yet, researchers at UC Berkeley have ranked the antioxidant strength of this obscure extract among the likes of vitamin C, vitamin E, and lipoic acid! And that isn't even the full extent of the benefits these researchers uncovered while studying Pycnogenol.
Via the modulation of nitric oxide production, Pycnogenol may be capable of lending support to cardiovascular health, the circulatory system, the immune system, and anti-inflammatory activity.1
The last area of note regarding this potent natural ingredient is its supportive effect on cognitive health. Some of these benefits revolve around the anti-inflammatory support mechanisms covered above, but it has also been discussed in a 2019 study that Pycnogenol may have numerous other mechanisms of cognitive support, including assisting in the production of glutathione.
This same study underlines that Pycnogenol's efficacy for cognitive support is rooted in the fact that it is capable of effecting the brain without having to cross the blood-brain barrier.2
Why Choose Pycnogenol Superior 100 GOLD?
The Pycnogenol Superior 100 GOLD formula from Biogena is a 100% plant-based product which contains 100 mg Pycnogenol® and 100 mg grape seed extract. By combining these two natural extracts with similar polyphenol contents, Pycnogenol Superior 100 GOLD achieves optimal antioxidant potential.
This formula also utilizes Vcaps®, is non-GMO, and contains no artificial fillers, colors, or flavors. All in all, Biogena Pycnogenol Superior 100 GOLD delivers unrivalled antioxidant support via the highest quality plant-based ingredients available. It truly represents the gold standard of antioxidant supplements.
Storage: Keep in a cool, dry place. Keep out of reach of children.
Warnings:
If pregnant, nursing, or undergoing treatment for a medical condition, consult your physician before taking this product.
Keep out of reach of children.
Do not exceed recommended dose.
Pycnogenol® is a registered trademark of Horphag Research Ltd. Use of this product may be protected by one or more U.S. patents and other international patents. VCAPS® & logo are trademarks of Lonza or its affiliates.
* These statements have not been evaluated by the Food and Drug Administration. This Product is not intended to diagnose, treat, cure or prevent any disease.