Description
15 mg of Menatetrenone (Vitamin K2 [MK-4]) in every vegetable capsule.
Designed to provide optimal nutritional support for healthy bones, circulation, and more!
May be particularly beneficial for women.
Renowned for its synergy with Vitamin D3 – here's our D3 recommendation.
Vegan-friendly, non-GMO, and gluten-free.
90 servings per container.
Peak K2 – the Pinnacle of Vitamin K Supplementation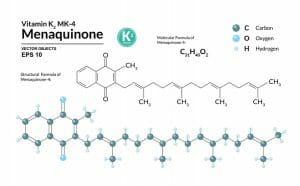 Unlike other "letter vitamins", Vitamin K is not actually a singular compound. Instead, "Vitamin K" is a generic term which is used to refer to a group of chemical compounds which share a structure similar to 2-methyl-1,4-naphthoquinone.
Thankfully, there are two primary compounds from this group which are most relevant to the general public. These are phylloquinone (vitamin K1) and menaquinones (vitamin K2). Vitamin K2 is almost universally considered to be the most bioavailable of the pair. However, the science behind K2 supplementation gets much more complicated than that.
Menaquinones are given one of three designations: MK4, MK7, or MK13. The numerical designation depends upon the length of their unsaturated isoprenyl side chains. Because it can be organically produced in the human body, and because it is the form most commonly used in clinical trials, MK4 is generally thought of as being much the most effective form of Vitamin K2 for supplementation.1 As such, Advanced Orthomolecular Research Peak K2 has been crafted with the highest quality of K2 in its MK4 form.
The nutritional potential of properly absorbed Vitamin K is quite extensive. For starters, Vitamin K serves as a coenzyme for an enzyme known conveniently as vitamin K-dependent carboxylase. This enzyme is required for the synthesis of proteins involved in hemostasis (blood clotting), bone metabolism, and a wide array of other physiological functions.
Additionally, Matrix Gla-protein is a vitamin K-dependent protein which is present in vascular muscles, bone, and cartilage. This particular protein is of great interest to nutritionists and other health experts due to its potential for resisting abnormal calcification.2*
Note: Store in a cool dark place.Harmless clumping may occur at temperatures exceeding 95 °F.
Warnings:
Do not take in combination with anticoagulants (example: warfarin) unless advised to do so by your physician.
If pregnant, nursing, or undergoing treatment for a medical condition, consult your physician before taking this product.
Keep out of reach of children.
Do not exceed recommended dose.
* These statements have not been evaluated by the Food and Drug Administration. This Product is not intended to diagnose, treat, cure or prevent any disease.