Ortho Molecular Products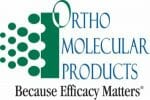 As anyone who regularly invests in dietary supplements knows: there is a wide gap in quality between various brands and manufacturers. Some may think that all probiotics capsules are mostly equal, so why invest more money in one than the other? Thankfully, the people behind Ortho Molecular Products understand that this is not the case. They know that efficacy matters. So, if you're one of those wondering, "why are ortho molecular products so expensive?" You need to know that Just because a product is sold at a lower cost, it doesn't mean that it will still work as effectively!
While other brands will cut corners and retain profits at every turn, just to be the cheapest deal on the market, Ortho Molecular Products are made according to the most rigorous standards of manufacturing practices and contain only the highest quality of natural ingredients. This is why you might find them expensive. It is all to ensure that ortho molecular products maintain their efficacy so that you don't waste your money on cheap and ultimately useless supplements. After all, your health is worth it!
Important information for ordering Ortho Molecular Products: