Can you use a CBD Capsule as a Suppository?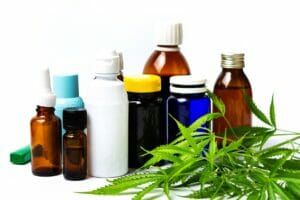 CBD, scientifically known as Cannabidiol, has created a market with ever-confusing products. At DR Vitamin Solutions, we recently had a customer call us with this exact question, "Can I use a CBD Capsule as a Suppository?"
The short answer is no, CBD Capsules are most often made with Bovine Gelatin which will not melt when inserted either rectally or vaginally. CBD Capsules are made only to be taken orally. You need to use these specific CBD Hemp Suppositories, made with an organic Cocoa Butter Base if you are looking to upgrade your wellness through the high bioavailability of CBD Suppository Supplementation.
What is CBD?
CBD is an extract from the female version of Cannabis Sativa, known as Hemp. The Food and Drug Administration (FDA) classifies a Hemp plant as a Cannabis plant which contains less than 0.3% THC.
A Cannabis Plant which tests over 0.3% THC is known as Marijuana.
CBD is one of 116 different "Cannabinoids" found naturally occurring in the leaves and stem of the Hemp plant. Contrary to popular opinion, CBD is not found naturally occurring in the stem of the Hemp plant.
Along with CBD, you will find other Cannabinoids such as CBG, CBC, CBN and THC. The CBD Cannabinoid has become extremely popular because it is the most researched in the scientific community. Current scientific research has shown CBD benefits include less stress, better sleep, and pain relief.
THC is the phytocompound in Cannabis responsible for exerting a psychoactive "high" effect when taken in large doses. Low doses of THC (less than 0.3%) will not produce a psychoactive effect and may aid in boosting the benefits of CBD in Full Spectrum CBD Hemp Oil Products.
If THC is not an ingredient you desire adding to your Hemp Wellness Ritual, you can find THC-Free CBD Oils called "Broad Spectrum CBD Hemp Oil." These products contain the full range of botanicals in the Hemp Plant, minus THC in the situation you must pass a drug test or do not desire this Hemp compound.
What makes CBD special?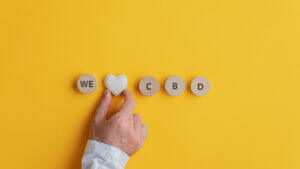 CBD has taken the health community by storm because it supports the benefits of marijuana without the psychoactive effect! The most studied benefits are less stress, better sleep and pain relief.
CBD works by stimulating your CB1 Receptor and CB2 Receptor found in your Endocannabinoid System (ECS). By stimulating these receptors, CBD brings balance to your mind and body without making you high.
A Market of Confusion
The Farm Bill of 2018 legalized the sale of CBD Hemp products containing less than 0.3% THC. While this legislative bill was a landmark breakthrough for the health and wellness industry, it has allowed confusing CBD products to flood the market.
From CBD Water to even CBD Blankets, the average CBD buyer has become confused in terms of what products to use and how to use them.
Unfortunately, this has caused people to misunderstand the difference between a CBD Capsule and a CBD suppository. These two products are not the same and are designed to be used differently.
We are here to clear the confusion so you can understand which product you need and how to use it.
So, What is a CBD Capsule?
CBD Capsules, or CBD Pills, is CBD Oil encapsulated in a Bovine Gelatin Capsule designed to be taken orally with water or juice. You can find vegan CBD capsules made with a vegetable gelatin capsule, but these are difficult to find.
Unlike CBD Hemp Suppositories, CBD Capsules must pass through stomach acids which deteriorates its bioavailability. Scientific studies show you get between 25% to 30% absorption once the capsule passes through the stomach.
Hemp CBD Suppositories bypass the stomach as they are administered through the rectum or vagina which are direct access points to your bloodstream. The absorption rate of suppositories to between 65% to 70% bioavailability, a huge difference!
CBD Capsules are designed to be taken orally the same way you take your daily multivitamin.
CBD Suppositories: The Bioavailable Advantage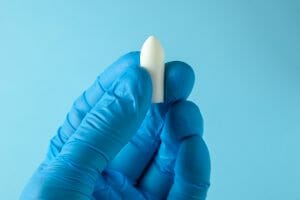 Hemp Extract Suppositories, such as what we sell on our website, are made with an organic cocoa butter base designed to dissolve through heat generated in the rectum or vagina.
Once the cocoa butter is melted, the rich CBD content absorbs into your bloodstream allowing your body to use more CBD to promote less stress, better sleep, and pain relief throughout your biological systems.
Cannabidiol Suppositories are not intended to be taken orally, they are only to be administered through the rectum and vagina.
People use CBD Suppositories over CBD Capsules for the higher absorption rate. CBD Capsules bring you 30% absorption where CBD Suppositories bring you 60% absorption, nearly double the amount of CBD!
Simply put, CBD is absorbed faster and in higher amounts through the anus or vagina since there is no exposure to stomach acids in the digestive tract. Heathline states, "Medication from a rectal suppository tends to work quickly. This is because the suppository melts inside the body and is absorbed directly into
the bloodstream." No breakdown of CBD equals more for your body to use! There is also less stress on your kidneys and liver compared to capsules and liquids which must be taken orally.
Other than the high absorption rate, people use CBD Suppositories when…
1. They have a hard time swallowing capsules or liquids
2. You tend to vomit when taking a vitamin capsule or liquid
3. Capsules or liquids upset your stomach
How to Use a CBD Suppository
In terms of using a CBD Suppository, they are no different than your typical suppository.
Use these steps to use your product correctly:
1. Use the bathroom: You must have a bowel movement before inserting any type of suppository.
2. Refrigerate your product 4-5 minutes before using it: Suppositories are made of cocoa butter; they melt very easily. Your product will not insert if it is warm, so place it in the fridge for 4-5 minutes before use. The product does not have to be ice cold, it just can't be warm, or it will not insert, and you will have wasted a unit.
3. Wash your hands immediately before use: To maintain safety, keep your hands clean. You can also use gloves if you prefer.
4. Tear the wrapper off your suppository
5. Optional: Cut the suppository in half: This is only needed if you feel your body does not need a full dose. The correct dose of CBD per day is 25mg, so keep this in mind. Use a clean razor blade if you are cutting your suppository in half then sterilize it or throw it away.
6. Put gloves on: Sanitation is essential throughout this process. Gloves are not mandatory if you are going to be washing your hands throughout the process.
7. Lubricate your suppository with K-Y Jelly or Cool Water ONLY: Do not lubricate your suppository with petroleum jelly, it is not water soluble.
8. Lie on your left side: lie on your left side with your lower leg perfectly straight. Bend your upper leg with your knee bent as high as comfortable.
9. Open the rectal or vaginal area: gentle grab the upper buttock to expose the rectal area.
10. Insert CBD Suppository into the Rectum or Vagina: With pointed end first, use your pointer finger to massage the suppository into the exposed rectal area. Once the suppository is inserted into the rectum, keep gently applying pressure until the sphincter receives it. Adults must push Suppository one-inch into the sphincter, it is 1/2 inch for infants. If you do not replicate this process properly, the suppository could pop out of the sphincter.
11. Close and hold: While still on your side, release your hand from the buttocks and hold the buttocks together.
12. Remain in the same position for 30 minutes: 30 minutes may seem like a long time, but you need to let the suppository melt and dissolve into your bloodstream. Stay lying for 30 minutes. Standing up too early could cause the suppository to pop out of the sphincter. You can occupy your time with a magazine or your favorite television show.
13. After 30 minutes, stand up: This step is to make sure the Hemp CBD Suppository has been received by your body.
14. Dispose of all wrappers and gloves used in the process
15. Wash your hands one last time: Wash your hands with soap and warm water. If you experience any abnormality, contact your doctor.
16. Smile and relax!
CBD Suppository Side Effects
CBD cannot make you high, people typically say it makes them feel calm and relaxed. However, you may experience side effects from the suppository itself especially if you are using it for the first time.
Although these side-effects are rare, you may experience these side-effects:
1. Minor burning Sensation
2. Anal or Vaginal Irritation
3. Diarrhea
4. Nausea
5. Allergic reaction in rare cases.
If you have a rare case of an allergic reaction, call your doctor or pharmacist.
Additional Benefits of CBD Suppositories
While CBD Suppositories support less stress, better sleep and pain relief; there are additional health benefits you might experience with suppository supplementation. CBD Suppositories, like our VitalTox Hemp Oil Suppositories, are also formulated with glycerin to help the suppository slide into the rectum or vagina. This ingredient can also help relieve constipation.
Capsules Will Not Melt, Suppositories Will
When answering the customer who called our phone line, we explained that they cannot use a CBD Capsule as a Suppository because the bovine gelatin shell will not melt in either the anus or vagina. You might do serious harm to your body by forcing a CBD Capsule in an area where it was intended!
To experience the high absorption of CBD Suppository Supplementation, you must use the correct product like our VitalTox CBD Suppositories made from 100% organic Hemp.
The Power of VitalTox Hemp Suppositories
Our VitalTox Hemp Oil Suppositories contain a full 75mg of full spectrum Hemp Oil per suppository. As we learned above, scientists recommend you get at least 25mg of CBD per day to maintain the benefits.
This means you can either cut your suppository in half, extending the lifespan of your product, or you can experience the anti-inflammatory relief of CBD through the power of organic Hemp.
VitalTox Suppositories are crafted with 100% organic industrial Hemp containing less than 0.3% THC, so this product will not make you high while supporting less stress, better sleep and pain relief in your mind and body.
These suppositories are the first of their kind to utilize 100% organic, non-GMO Hemp plants to support your body with the highest quality in purity and potency. Click here to buy VitalTox Hemp Oil Suppositories
Conclusion
The CBD market is confusing, that's why we are here to help you understand which product to use and how it's administered correctly.
So, can you use a CBD Capsule as a Suppository?
The answer is no, because Bovine Gelatin will not melt in the anal or vaginal area. You can only use a CBD Suppositories made with a cocoa butter base so it will melt and dissolve high quality CBD into your bloodstream. We recommend you buy VitalTox Suppositories because they are made with 100% organic Hemp and Cocoa Butter so you can give your body what it needs to heal and thrive.
---
Thank you for taking the time to read Can you use a CBD Capsule as a Suppository?

Please note: All information presented to you in this website is intended for your general knowledge only and is not a substitute for medical advice or treatment for specific medical conditions. We cannot, and will not give you medical advice. We strongly recommend you consult your physician for any and all specific health issues. If you have any questions or contributions, please contact us via email or phone-call. We are constantly looking for new information to promote wellness – and hearing from you would make our day.

Live Vibrantly!

This entry was posted in